When was asked to review the Garmin sat nav as a Tesco Compare car insurance safety tester earlier this month, I jumped at the chance. Up until my trip to Australia we haven't really used satnavs that much. We rely on online maps on our phones to find places that we need to go. But being overseas and unable to use roaming services made me realise just how hard it would be to find my way around without using a good old fashioned mapand being on my own it would have been a real challenge to try and read a map and drive at the same time. I booked the satnav when I was booking my hire car and didn't think any more of it.
That was until I arrived and was in a place completely strange to me and had no idea how to get to any of the addresses that I had to get to in my short visit to the country. That was when I realised how much I was going to rely on the satnav. The SatNav I used in Australia is exactly the same model as I was offered for a review on my return to the UK so I already knew how useful it was going to be!

The Garmin SatNav comes with a little suction cup holder that fixes onto your windscreen or wherever you want to place it really easily. It has a battery powered pack and also you can plug it into your cigarette lighter.
It has a really easy interface. Like I said, I hadnt used a SatNav before and so when I was in the car on my first morning in Sydney with an appointment to get to I had a sudden panic when I realised I hadn't asked the lady in the car hire place to show me how to use it! But it was really straightforward, you can navigate to the home screen and then it's easy to either search for an address. I quickly realised in Aus that postcodes are not as accurate as they are here. They seem to be for an entire area rather than a street!
You are guided through the screens allowing you to put in more specific details of your route if you need to. Then it will calculate your route and give you an estimated time of arrival (which is really helpful if you are working out how long you need) and then actually how far it is. You can have a choice of whether or not you wish to be guided by the voice or just follow on the screen. You appear as a little car at the start point of your route and it is really pretty accurate at keeping you on route. I found that unlike phone apps we have used. The satnav was really effective at getting you off at the right junction. Driving in a city that I had never been to before I found this really helpful. It didn't just say 'take the next left' it actually would mention that you would be turning left and give you a succession of warnings as you approached your turning then once you were actually upon the junction you got quite a stern 'turn left!' The display is really easy to follow. I especially appreciated the fact that it showed me which lane I was in when I was coming up to huge intersections that could easily see me zipping off down the wrong one. My route was always highlighted and it was easy to see if I was going wrong.
There was only actually one time I got lost in Sydney and that was probably because Ihad met up with my oldest friend from school and we were chattering and I was not paying attention to the satnav. Although we did have a really good detour across the Sydney Harbour Bridge so it wasn't too bad! But the SatNav was quick to try and get us back on route so we were alerted pretty quickly that we had gone wrong. It re-calculates your route if you go wrong and will give you an alternative way or ask you to turn when you can.
In settings you can find lots of options to personalise your routes and the way you use the SatNav. I didn't realise you could do this in Australia and I wish I had of as I could have set it to avoid tolls. The main motorway around the city is a toll and you don't even realise you are being charged as it clocks your number plate and bills you. Whilst it wasn't a lot it would have been good to avoid it! You can also set it to warn you when you are coming up upon speed cameras. Always useful

The SatNav stores all the routes you have plugged in so when you strike in a familiar address it will give you a dropdown menu of previous routes and you can select the one you want. You can also set your home destination. One of the items that I used quite a bit in Sydney was the point of interest option in the menu. This was really useful when I found myself in an area of Sydney and was about ready for some lunch and had no idea where to go to get some! Plugged in cafes to the SatNav and  got a huge option of locations around where I was.
I really couldn't have done without the SatNav in Australia. It helped me get so much of what I needed to do, done in a short period of time. Its navigation panel is easy and straightforward to use and I never once got sent down a farm track or to a dead end!
Back at home the destinations are a little different that im plugging in but it is still as effective and also gives the kids a bit of a kick to see where we are on the road. I am totally converted to SatNavs and anytime we need to get somewhere that we might not be sure of the route I will definitely be using it!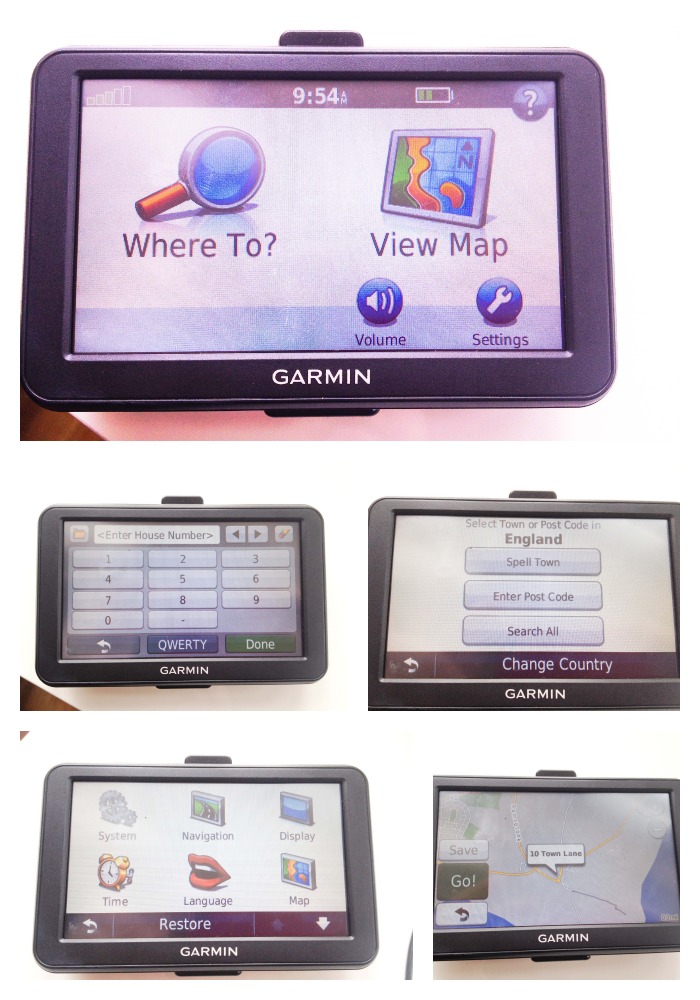 I was sent the SatNav for review, all opinions are my own