I was asked at the beginning of the summer if i would like to review a hamper from Thorntons….
Um….
Im sorry but does the man in the white hat carry rosary beads?
🙂
We were lucky enough to receive a beautiful personalised hamper of goodies from Thorntons. Packaged in an enourmous and very exciting looking box. There may have been some squealing.
Opening the heavy wait presentation box is a thing of joy and there was pretty much something for everyone in there.
It is a good sized box and when it arrives it has a real feeling of luxury about it.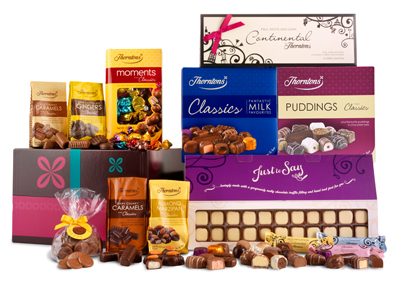 Included in the box are:
Personalisable Chocolate Alphabet Truffles (22 cup truffles)
Continental Milk, White & Dark Signature (300g)
Classics Milk Signature (276g)
Moments (250g)
Classics Favourite Puddings (180g)
Bag of Smiles (160g)
Classics Milk Caramel Bag (103g)
Classics Dark Caramel Bag (103g)
Classics Almond Marzipan Bag (107g)
Classics Dark Ginger Bag (98g)
Continental Viennese Bar
Continental Lemon Bar
Continental Alpini Ba
I had to be quick to get some myself as there was a frantic rush for some of the favourites. My OH was very impressed with some of the flavoured caramels, in particular the ginger flavoured. The kids loved the chocolate buttons or bag of smiles which are really cute. Our personalised truffles have been used for a certain birthday!
Really a beautiful gift for a chocolate lover and reasonably priced as well!!
This is a partnered post.