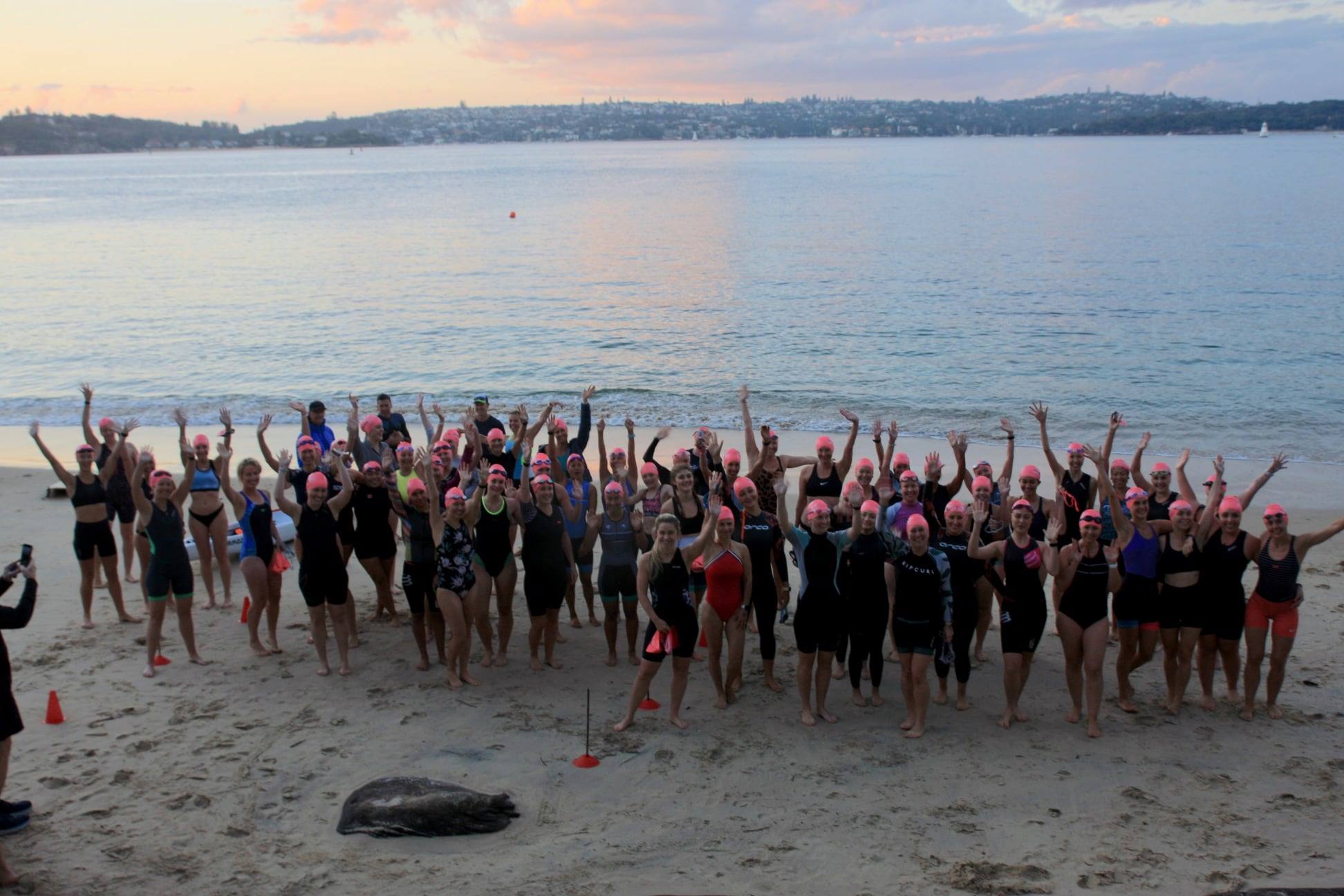 The serendipity law states that the universe will bend in your direction by affording you with a seemingly unexpected and accidental fortuitous event. How does this apply to lycra you might ask…well let me tell you a story..
We have all, in general, had and continue to have a gruelling and emotional few years. The impact of the pandemic on the basics of life has been at best inconvenient and at worst devastating. Add to that the isolation and fear felt by the majority of expats who up until very recently have been prevented from visiting their home country without any real idea of when that would change. It's been tough, not tough in the way that stops you functioning, hello key workers (of which I am one) ..but tough in the way that slowly and quietly pulls away the fragile layers of coping until we are all just a little bit raw.
So here I was, a little lost in a world where you can't go anywhere, searching for something that I didn't even know I was looking for. One night aimlessly scrolling through social media, a random pop-up advert created an opportunity that changed my focus and maybe even saved me a little bit. The ad was for a women's only beginner triathlon event being run by a local tri club. A few years ago I had signed up for something similar but bailed at the last moment and Facebook in its creepy way of remembering all you do had connected the dots and decided to chuck a few adverts in my direction as link bait. It worked.
I signed up, buoyed by the fact that the club organising was offering some free training sessions before the event. I followed the club on Facebook and sent them a message asking for advice regarding what to wear and do I need to take out a loan to buy a 7-kilo road bike? If I'm honest I'm not sure I expected a response. The idea of a sports club was pretty intimidating to a total non-sporty person like me. But at the end of my rambling messenger message was someone who told me that I had 'made her day' by signing up and reaching out and suddenly I had connection. Not just to the idea of the event but the people behind it. Liz, who I later found out was relatively new to the sport herself, even volunteered to meet me for a coffee and go through all the questions I had. It was evident from my first contact with the club that they wanted you to participate enough that they are willing to give up their own time to help you. If this was triathlon, then I was in.
The friendly tagline of 'finish lines, not finish times' was emphasised multiple times throughout the free, professional coaching sessions. That and the reassurance that there were no silly questions or fears. The little group of women who gathered to listen to the experts began to form little bonds of friendship. It had a great feeling of togetherness. There were no lonely operators in this event, even though you would be an individual on the actual course this was a team and a commitment to see women succeed. That kind of belief, the empowerment it creates leaves a mark. You want to stay around it. It draws you in.
Now I'm not going to lie to you, the actual mechanics of a triathlon are at some points quite comical. There isn't another event where you have to swap clothes and exercise equipment quite so much. You think it's just swimming, cycling, and running. Three things most of us can probably do to some degree. But in a triathlon, those three basics are neatly tied together with a thing called 'transition' Which as its most basic is a high-speed striptease and dress-up in a car park.
Transition happens twice over. In between the change from the swim to the bike and then from the bike to the run. But first, you have 'set up.' This happens under the humming of generators powering huge overhead lights in the wee small hours. Athletes navigate rows of bikes swaying on racks from their pointy little seats, creating elaborate floor decorations of towels, bike shoes, runners, water bottles, gels, and sunglasses.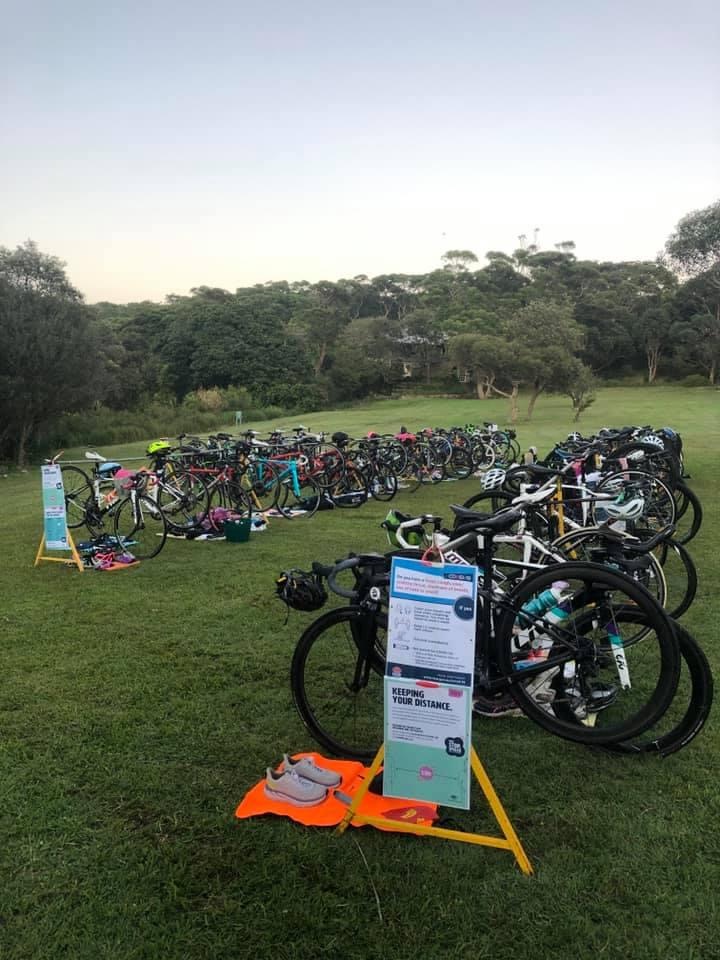 I discovered as well that whilst you think your bike and towel arrangement looks stands out, when you run back into transition it's very easy to loose your bike in a sea of other bikes and after the first transition happens it's basically like running into a teenagers bedroom. Gone are the neat lines and the careful placement and it's an array of discarded wetsuits and shoes. There are rules too, so we discovered, your bike helmet needs to get on your head before you touch the bike and not leave your head until you have finished with, and racked your bike. You have to run in and out of different parts of transition and you have to get on and off your bike at a certain point and not before or after. It seemed like a lot to remember but the friendly faces of the champion ironman and women coaches just told us to enjoy it and take our time. The whole process was demonstrated with such genuine pleasure and delight at our involvement and interest in the sport it was hard not to catch the enthusiasm and excitement.
Now what to wear? This was a frequent point of concern for most of us newcomers. Is there somewhere to change? How do you ride a bike in a swimming costume and moreover why would you want to? The lovely Club rep that I had met for coffee a few weeks before had lent me the sporting wear that is a Tri suit. An interesting onesie/ swimming costume, cycling short arrangement. I remember the horrifying moment when I realised that you have to wear this item of clothing for the whole race. The cycling part of this onesie, if you are unfamiliar with cycling shorts, is the chamois, nappy type thing between your legs. Having had five babies, it reminded me of the super, canoe-sized maxi pads they give you after you have just pushed a human into the world through your vajayjay. It is designed to protect your delicates whilst on the bike leg of the race. Although the amount of conversations I heard about chaffing in that area, I feel that it might not be totally up to its job. Maybe because it's wet for the whole time because you just went for a swim in it.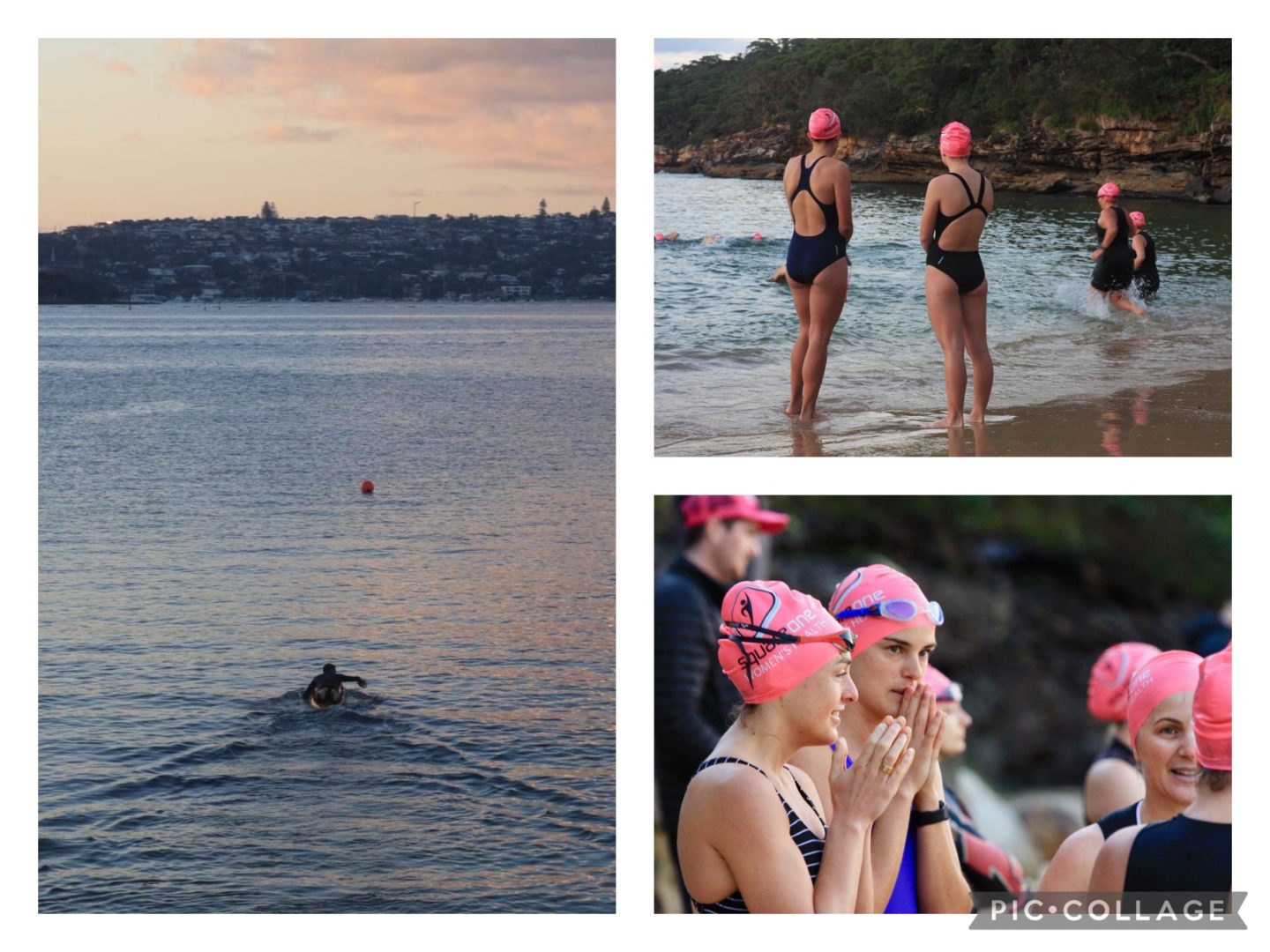 Also generally you don't wear a bra under a swimsuit , there isn't much call for the girls to have support whilst swimming. But once you are out of the water then gravity is not your friend and unless you are anything other than flat chested you are going to need a bra. Which means its also going to get wet. Remember there is nowhere to change. So don't wear your fancy, underwired number and go for something that is pretty lightweight or at least a fast drying material. Remember you have a run at the end and that bounce is still the same.
There were way too many conversations about peeing for my liking. It seems, overall, that the general consensus is pee in the sea. I have to confess that this is not something I can get behind. Either as an idea or as a unsuspecting swimmer who might end up floating through someone else's pre race panic wee. Ew.
The distances for the triathlon were 200m open water swim, 9km bike and 2km run. The course was fairly straightforward. One thing I have learned about triathletes is that they like laps. Most of the courses I have done (admittedly there have only been two) have been laps of at least the cycle and run. Which is beneficial if you have a habit of getting lost like me. The hardest part for me was the open water swim. Not because I was nervous about my ability to swim but because it was open water swimming and that, to me, was scary. Years of being the parent on a beach scanning and counting heads had made me cautious of anything other than slightly more than a paddle. The deep, dark water was not a place I found myself yearning to go. But the open water swim training session made the ocean seem far less intimidating. When you a concentrating on not hitting the person swimming next to you and getting around the buoys, you don't focus so much on the fear. On race day there were two water safety folks floating on surfboards watching everyone all the time for the short swim so there was little chance of getting into trouble. Although the thought of being hauled onto a surfboard in my onesie gasping for breath was more than a little motivation to get around the 200metre swim without needing their help.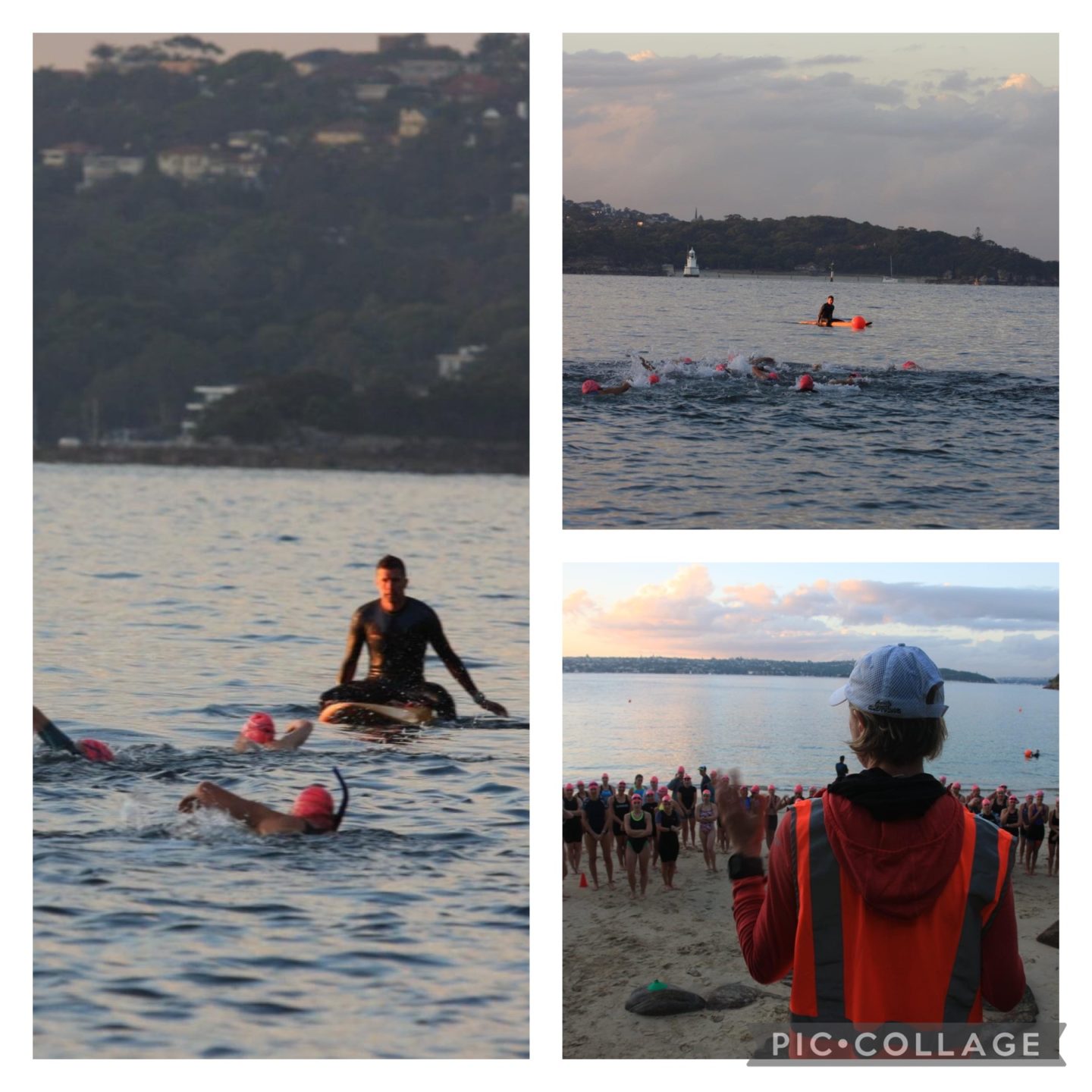 The first half of the swim was a bit alarming. It was a little cold in the water and we had been advised not to bother with wetsuits. But waiting in the water to start, I got quite cold and so by the time I planted my face in the water I started to hyperventilate, have a bit of a panic, swallow a bit of water and I had a moment when I looked directly at the water safety dude sitting quietly on his board and wondered if I would need to stick my hand in the air. But here's the thing, for the majority of us swimming is something we can all do and I had to remember that I could have at any time stick my head up and breaststroke or even doggy paddle to get my breath back and take a minute. So I told myself not to panic and just keep swimming. If you have children of a certain age you will never hear those words without hearing a bright blue fish singing it. But really Dory is right. Its what you got to do.
The in-between bit of the swim and the bike racks at chowder bay is not your usual sand and then tarmac run. It's more like a bushwalk, a steep and at times a bit gnarly track that leads you back up to the road. Most people adopted a walk/jog up the steps. I saw one incredible fore thinker had planned and fetched her flip flops down to the beach so she could put them on after exiting the water so that she needn't do the bush track in bare feet. Not a bad idea.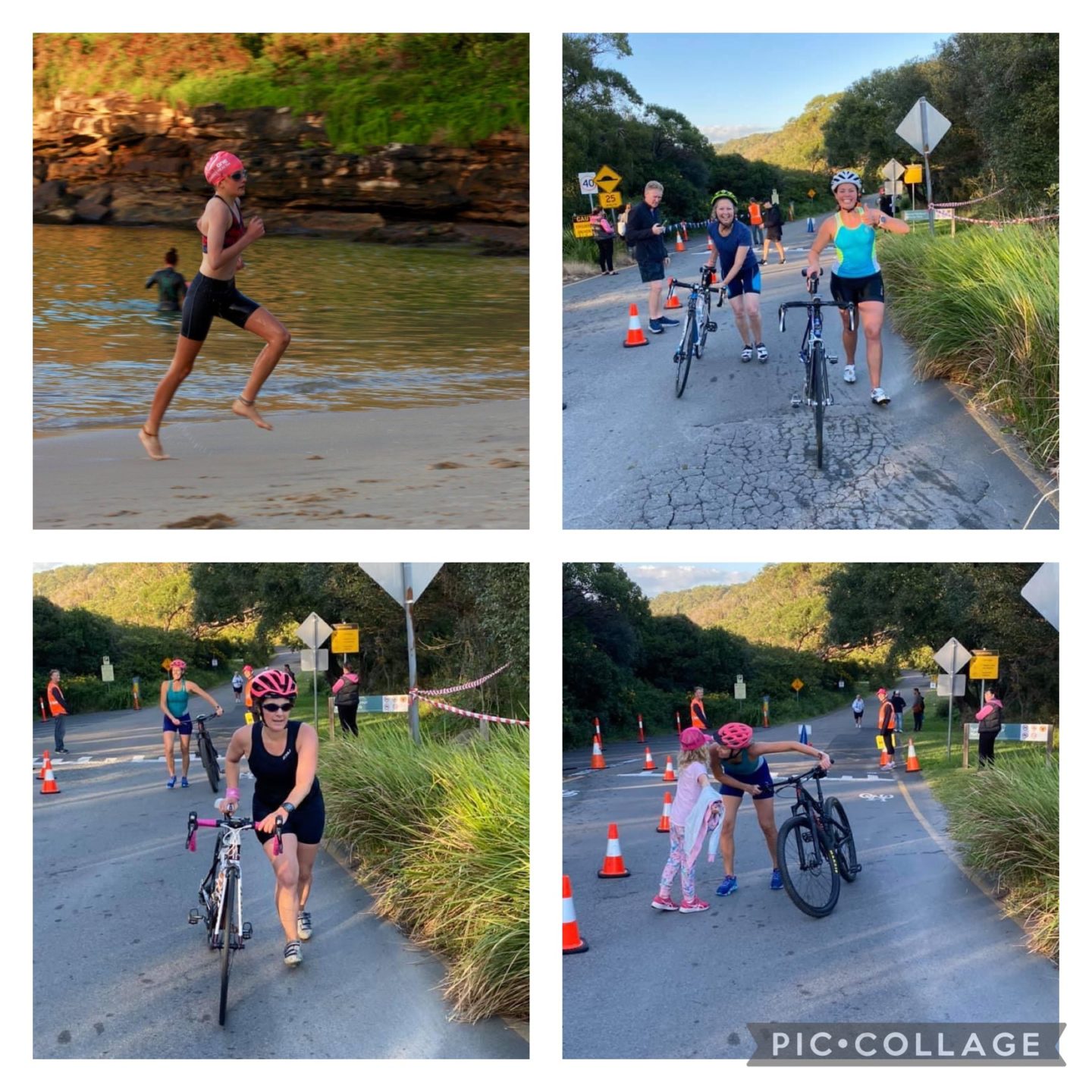 I had been talked into trying to ride with 'clip-ins' on the bike leg. The little sideways flick of the foot you see all those road cyclists do when they pull up to lights to disconnect their foot from the bike. As a total beginner to road bikes (I got lent one the day before the race), this seemed like maybe a step too far but I had a go with them at home and found that it wasn't as hard as I had imagined. I needed to remember that my feet were attached to the bike and that I had to do something about that before I came to a stop or I would fall sideways to the ground. Fortunately, the worry of that happening kept it very present in my mind during the bike leg of the race so I had no problem 'unclipping.' Although avoiding the bush turkeys and an escaping water bottle from another competitors bike was a little hairier!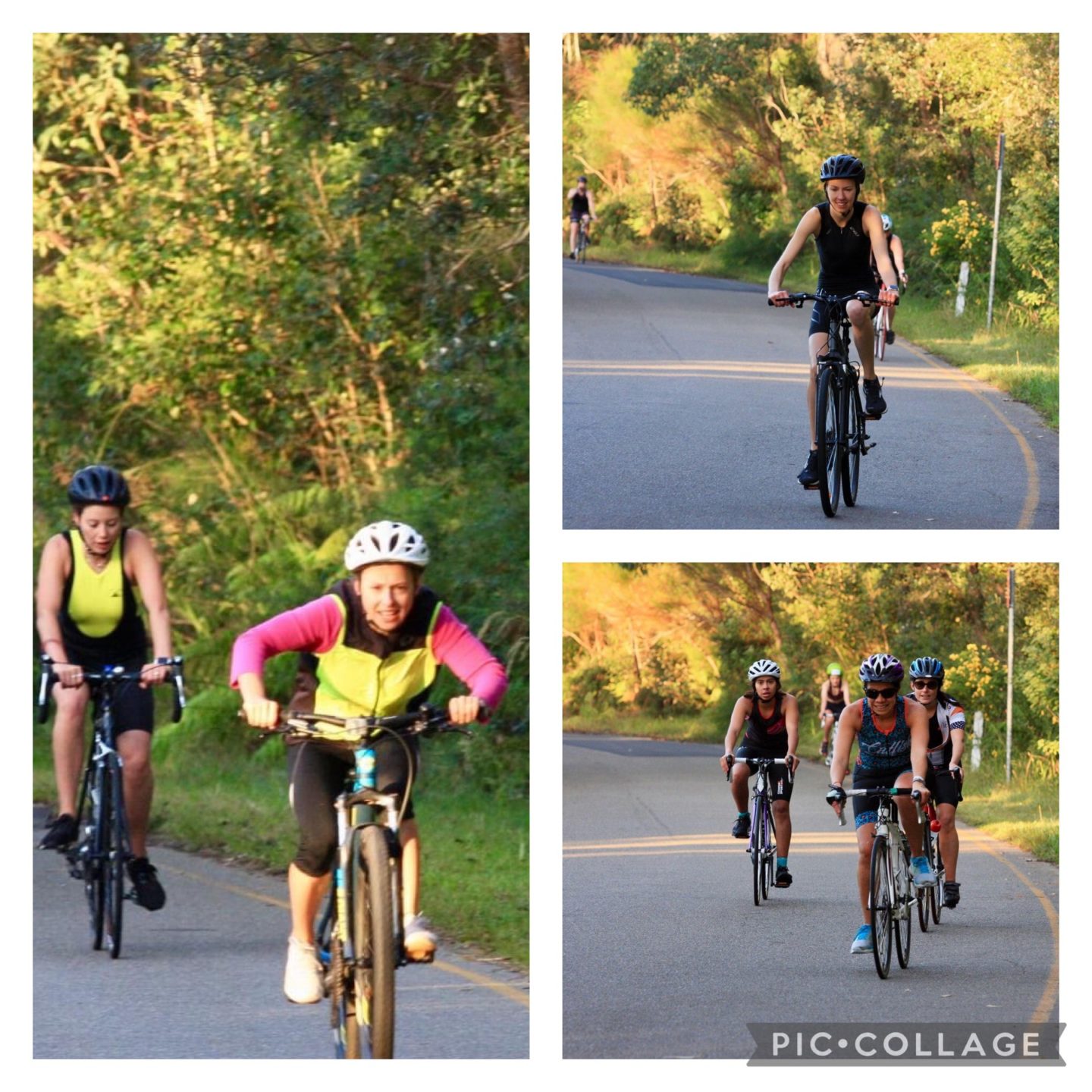 The run leg is where, I think, so many first-timers think they would be right at home. So many new triathletes seem to come from the world of running. But the stinger in the tail of the otherwise familiar activity is the transition from riding a bike to running creates some disharmony with your legs. People describe it in a few ways, jelly legs, heavy legs, stone legs. It was explained to us that the thing to remember is that it will feel strange while your body adapts to using your legs differently and slowly realises that the muscles needed to pump your legs are not the same as those needed to pump the wheels of a bike. The best thing to do is just keep on moving, much like the swim. Keep going and eventually, your legs will catch up with what your brain is telling them to do. During my first 200metres off the bike, I was almost sure that I wouldn't even make it around the course. But I just kept on going and soon my legs came back to me and my second lap felt a whole lot more normal and also so so short. It's just 2km and once I was over the shock of the transition I settled into the run but it ended. I feel like I wasn't ready for the end. I had just passed some fabulously enthusiastic volunteers pumping out Abba on a speaker, rounded the corner and there was the finishing line.
There is always a sense of accomplishment when you cross any finish line. But a triathlon has a different feeling. It's not just a race, it's an adventure. You've been on a wild journey of endurance punctuated with costume changes and battles with your very physiology. It's almost theatre and it is thrilling!
They say that triathlon gets under your skin and most people either love it or just can't understand it. For me, it was love. I joined the club soon after the triathlon and went on to race for the club in club championships a few months later after attending the clubs' tri-weekly training sessions as much as I could. The truth of the attraction was getting better at sports I had, had limited exposure to. But it wasn't the only thing that made me want to keep going back, a huge part of the it was the people I met through the club. Encouraging and inclusive. People who will work out a 50km bike route in a lockdown 5km radius so that you don't have to ride solo and who finish their own race, then run back to run in with you to the end. These are good people.
Now go ahead and google triathlete and what comes up is not a bunch of images of peri-menopausal, rounded women. Likely what you will find is zero body fat athletes in lycra babygros, hurling themselves barefoot onto the razor-sharp seats of bikes that look like they have been designed by someone with an irrational obsession with a ruler. But if you look closely those ladies are there and not only are they seriously rocking the onesies they want you to have a go as well. So what do you have to loose? You just never know what might happen?