We don't watch a lot of TV in our house…
Actually to clarify that..i dont really count cbeebies. We watch that a lot.
But actual grown up telly. We don't get to watch that much…but i do have my favourites and i frustratingly often miss them or just watching them is hard work when you have 5 little ones bouncing around and piroting in front of the screen.
Its one of those problems that we didn't really think was an issue until i noticed an email from Mumsnet saying that Humax Freesat  HD were looking for families to try out their new freesat box. I was instantly filling in the form…we have never been in the market for the 'pay as you watch' sky type TV. We had it once when we first got married when it was a HECK of a lot cheaper and we discovered we just watched endless episodes of The Simpsons!! But who wants to pay!
Here is what Freesat had to say!
Hello. We're freesat. We believe you shouldn't have to pay a monthly subscription to watch and listen to 180 channels of the best comedy, drama, sport, lifestyle, music and news. We offer free HD services from ITV, the BBC and Channel 4; freesat+ to record pause and rewind, BBC iPlayer, ITV Player, 4oD and Demand5; and all subscription free."
Freesat launched <freetime> last Autumn which includes a Roll Back TV Guide that allows you to watch programmes you've missed from the previous seven days across 21 channels, a new showcase section providing top TV picks chosen daily by Freesat's reviewers, on-demand services and enhanced recordings.
Freesat is a subscription free service and Freesat+ boxes are available to buy from a range of retailers – RRP from £226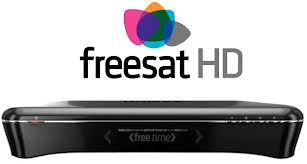 I was filling in the form pretty quickly, i had heard people talk about this ability to freeze live TV and i wanted to have a go!! I was thrilled to be selected and we very quickly had a phone call to arrange setting up a satellite dish ( we dont have one) and the Freesat box arrived promptly in the post.
It was a matter of minutes before it was up and working and the technician was showing me all the things it could do. He did note to me that things would look better on an actual HD TV and he re-assuringly told me ' you dont see many non-HD TV's nowadays!'
I have to say that I have been really impressed with it. The menus are easy to navigate and there are easy ways to set favourites, record entire series, skip backwards and forwards through a programme. I love that you can be recording one channel and watch another, our previous box you had to stay on the same channel, which defeats the object a little bit! So i really love that feature.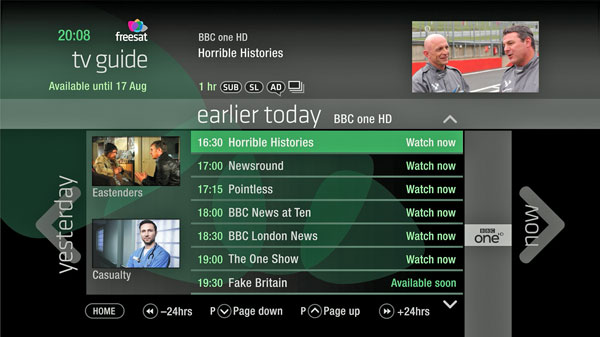 But by far my absolute favourite feature is the fact that you can access all of the 'on demand' services. This makes me very happy. You do need to have your box connected to the internet to get this. My talented OH managed to get another cable going from our router. But apparently you can get a some sort of 'dongal' that uses the wifi signal. Don't come chasing me if that isnt true though! Its only what i heard.
I have always loved the on demand services, particularly at this time of year when one of my total favourite shows is on and I can record it and  watch it in the luxury of that time after the kids are in bed..when the show is actually aired at teatime which equals chaos as we all know.
Now i don't need to watch it on a ipad or computer screen. I can sit  in peace and quiet and childfree zone with my big non-HD TV 😉
Makes.my.day. Especially as well since our TV is situated in the same room as my Mac that i edit my shoots on and also write up this here blog. So up till now keeping me company was gazillion year old re-reuns on Dave. Now i can catch up on stuff i really want to! Bonus.
I am so chuffed with this little box. I used to have to scroll through hundreds of channels on the old one we had to get to cbeebies. On this one i can just set it as a favourite or just key in the number of the channel and there you go. Bob's your uncle.
although in my case, he is my uncle.
yes. really.
Here is the box in situ, still with its protective covering on the front. It needs that for its own good in this house!! It has firmly demoted the Wii from being the only way of getting on demand on the TV. Which i am very happy about. I can never get the damm hand to appear on the screen!!
😉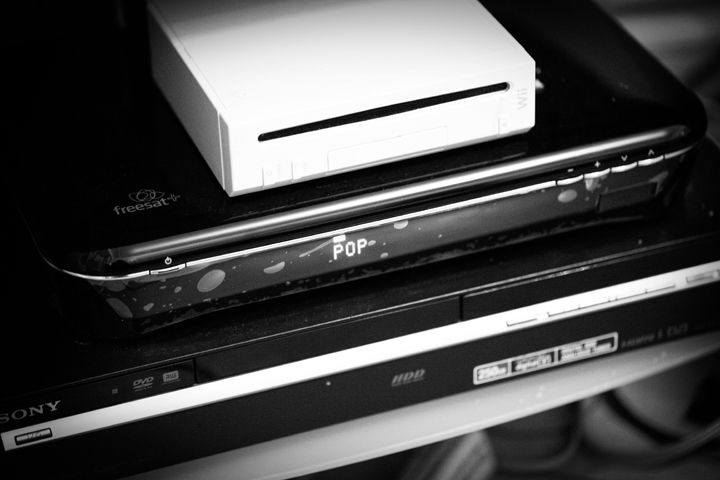 Humax are offering via apartyofseven.com an exclusive discount code to purchase a 500GB Humax Freesat+ box for £199, a saving of £30. Just enter the code: FT30 when ordering.
I am a member of the Mumsnet Bloggers Network a group of parent bloggers picked by Mumsnet to review products, services, events and brands.  I have not paid for the product or had to attend an event.  I have editorial control and retain full editorial integrity

Follow: