Continuing my series of looking at some of my favourite images from last year. You can see my last two posts here and here. 
I do a lot of newborn baby sessions. They are one of my favourites. I always say 'babies are my business!' 🙂
Having worked with newborn and premature babies for all of my professional nursing career it seemed like a natural extension when it came to photography! 2013 was a good year for newborns for me, I got some really well behaved, good sleepers and settled little clients and managed to get some lovely shots that i am really proud of and that i hope the parents love to! 🙂 I have written some another post about newborns here
One shot I did last year that I was really keen to try. I had seen another photographer talk about it and had waited until i had a really good sleepy baby and a game Dad to give it a try.
I have had lots of people ask me how i did it and of course with images now there can be a lot of 'magic' behind them whether thats just a little smoothing of the skin or large photoshopped edits. A lot of photographers will keep their cards pretty close to their chests! But I was keen to say how i actually did this shot because i want to emphasise how i did it from the point of view of baby safety.
Which is the most important thing for any photographer to consider…
Firstly i got Dad to have a go at his part of the shot. He is in front of a black backdrop and is leaning over a large beanbag which is covered in a large black blanket. Dad is actually kneeling on a bunch of towelling nappies that i use for mop ups! So that his knees didn't ache too much. I shot a couple of images of this pose making sure his arms (he had very long arms!) were entirely on the background.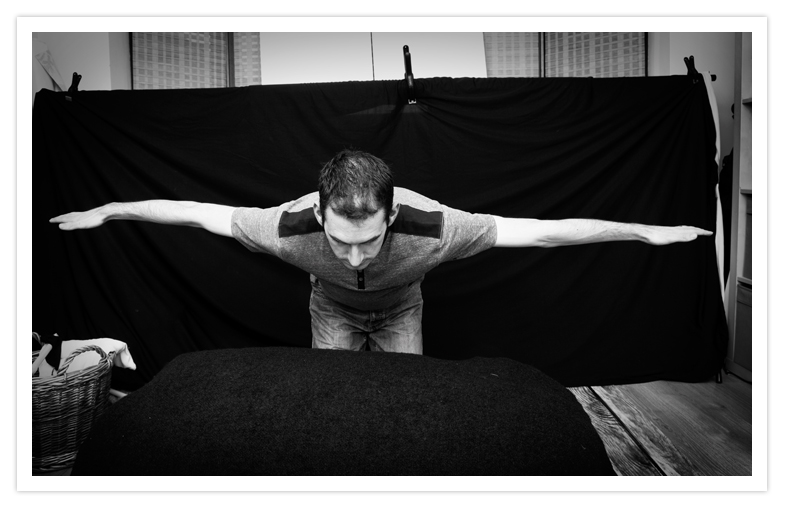 Then we got dad to strip!! and put their wee little girl who was completely asleep (they really need to be totally asleep) onto dad's back. She was on a little rolled up towel but on reflection she was fine on her dad's back and i was a little concerned about her being cold or uncomfortable but skin to skin is the warmest place for a baby to be….tsk tsk SCBU nurse! 😉
Then and this is the really important bit. Mum was right next to baby. You can see where mum was standing and how she had her hands on the baby's back. Baby was in no way at any danger of falling. It's really important to remember that babies can move their limbs very suddenly when they are asleep. We have all seen those moro reflex moves. 'Monkey falling of a branch' we used to call them and those sort of movements are totally involuntary and a newborn baby can do them anytime. So having a 'spotter' is not only important it is essential and it gives me chills the idea of working without one. You don't need an assistant you just need mum or dad close by.
I asked mum to take her hand away from the baby's back by a matter of inches for the seconds in which i fired the shot. That gives me distance between the two..which as anyone who has worked in photoshop knows,  makes editing SO much easier. Taking of the shot was seconds…setting it up took a LOT longer 😉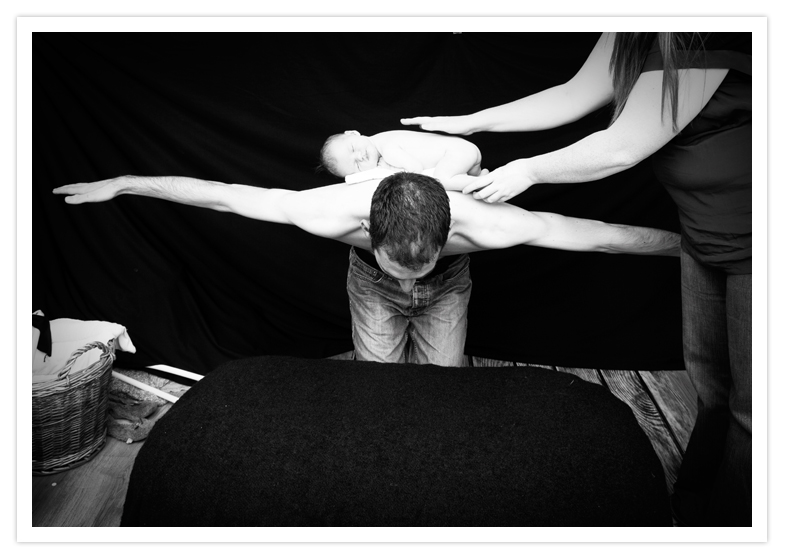 After the shoot, what i then did in photoshop (and i won't go into photoshop speak, thats probably a whole other post) but remember the image at the start with dad without the baby on his back and just his arms out stretched?
Well this is what i did, i took that images and copied the part of his arm that i have circled in white. Which is the part in the shot with the baby that the mum is standing in front of.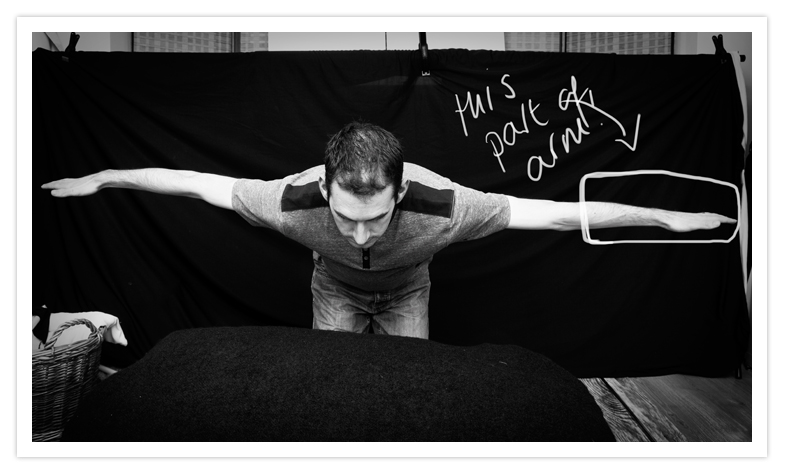 Then i put that onto the image with the baby using layers in photoshop. That then essentially covers where mum was standing and completes Dad's arm. Its a little more in depth than that but hopefully you get the idea. 🙂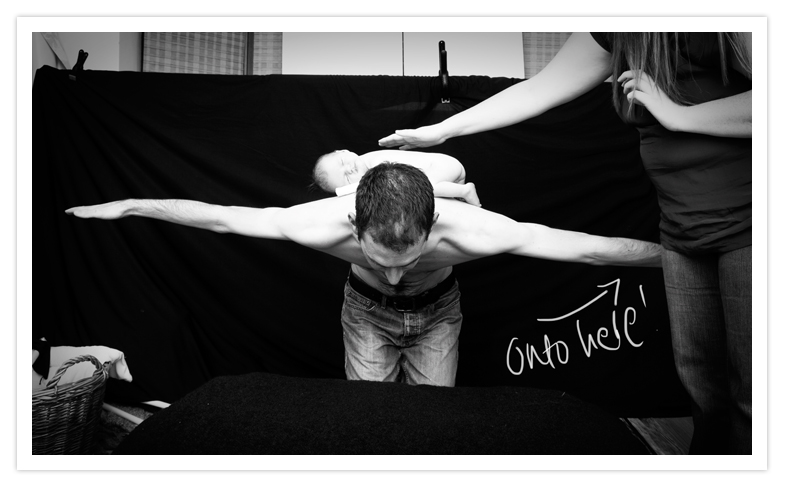 and this was the finished shot.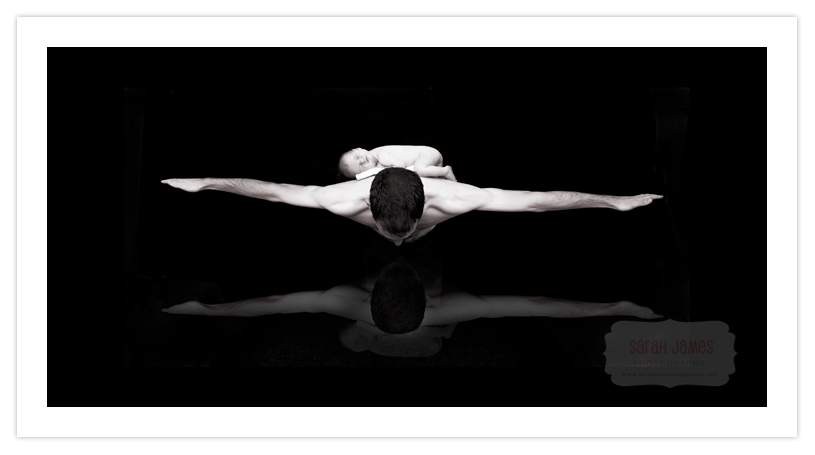 The refection is put in post processing in photoshop. I had someone ask me if i had him kneeling over a mirror!! *insert scary face* and i have edited out mums hand, arms etc from just above the baby's back…and generally prettied it up a little bit with some lovely black and white highlights here and there.
It is a lovely image and i know that the family loved it. When i put this image on facebook for their sneak peek the thing i loved most about it was that people didn't initially see the baby or weren't too sure what it was and had to do a double take and really study it. I love that it got that reaction and that people had to look deeper into it.
From a more mushy mummy level i love that demonstrates a little that bond that a Daddy has for his baby.
Almost like he cannot move until she wakes…
🙂